Things to do as a Couple in the Seychelles
When holidaying as a couple, we know sharing incredible experiences together is one of your top priorities. In order to do this, we encourage you to make the most of your surroundings in order to create lasting, unforgettable memories. There are plenty of things to do for couples in the Seychelles, such as:
If you've planned a holiday in the Seychelles, it is likely that you're a fan of the ocean. Our villas are located within a protected marine park, which means that you have the opportunity to discover some of the most mesmerising sea life that nature has to offer right on your doorstep! Immerse yourselves in the crystal clear waters...
If you are staying in one of our stunning villas on Cerf Island you will be pleased to hear that we provide you with kayaks at no extra cost. This means that you can explore the islands within the Marine Park whenever you want! There are several small islands nearby which are free to explore and there are also secluded beaches on Cerf Island or Ile Cache nearby if you want to experience the luxury of having your very own private strip of paradise. The scenery is breathtaking, making your holiday a truly magical experience.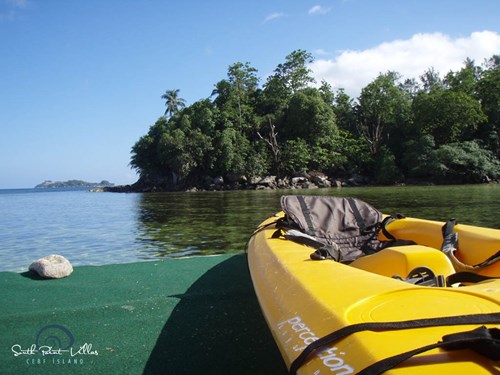 Island hopping
If you are staying in the Seychelles for a while, you will have time to explore the various islands and discover their different characters and attractions. In a country with 115 islands, it is worth exploring at least a few! Although the nearby islands within the Marine Park can be reached by kayak, you will need to take a boat ride, ferry service, plane flight, or helicopter to see the ones further away.
On Mahe, we can arrange excursions that will involve going to markets, museums, or other points of interest, while learning a little bit of history about the island. You will have a number of tours to choose from and whether you want a very active day or something more relaxing, there will be an option available for you. 
In the Seychelles, you will find many different rare species of animal. There are giant tortoises roaming around freely on the Aldabra Atoll but they can also be seen in protected enclosures many of the islands. The giant tortoises average around 120cm in length and can live beyond 200 years old! They are truly a spectacular prehistoric-looking sight. On the islands you may also spot a variety of rare birds, including endangered species protected in the Seychelles. 
For those wishing to add a fitness experience to their holiday while taking in the spectacular natural scenery, there are many hiking trails which we can recommend. Please speak to our manager who can provide you with more details. 
If you're keen to get your adrenaline flowing, parasailing might be exactly what you need to add some excitement to your trip! Not only do you get to experience the thrill, but you will also get a truly unforgettable birds-eye view. 
If you want to experience the underwater world, Seychelles boasts some of the best dive zones in the world and it's a great activity to do with your other half. Depending on what you are most interested in seeing, you can tailor the perfect diving trip to suit you. Along the coral reefs, some of the sea creatures that you could see include stingrays, eels, a myriad of exotic fish, dolphin, or whale shark.
Upon request, we can also arrange other water sport excursions such as water-skiing and deep-sea fishing charters.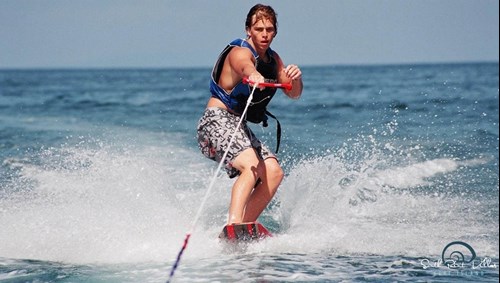 Our highly popular cooking assistance can be arranged upon request. You may not realise that there are also restaurants on Cerf Island! We can arrange a booking for you upon request. 
Relaxing
This might seem obvious, but many people often forget that the entire point of going to a paradise island is to get a break – away from the stresses and routines of everyday life. Spend some quality time together, go for a walk all the way around Cerf Island at low tide (sea shoes recommended), and enjoy the views and the sunshine! There's nothing more romantic than a picnic on the beach or simply enjoying your surroundings with no disruptions. We can also arrange a couple's massage at a nearby resort, where you can also have a range of treatments to choose from in order to relax and reinvigorate.