Information on the Seychelles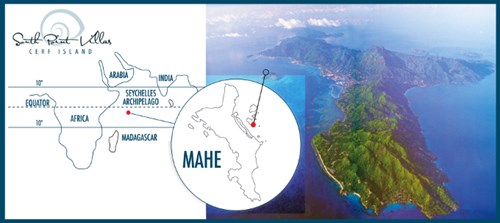 The Seychelles are an archipelago of 115 breathtakingly beautiful islands in the western Indian Ocean.   Remote from the rest of the world they are an exclusive hideaway for those seeking an unforgettable paradise.
GEOGRAPHY
With some islands being formed from granite and some from coral, they are stunningly attractive with lush green hills rising from turquoise waters and pearl white beaches.  Home to an incredibly bio-diverse set of wildlife and marine life, the Seychelles are proud recipients of two UNESCO World Heritage sites: Aldabra Atoll and the Vallée de Mai Nature Reserve.  With a land mass of 459 km2 and a population of 97,000 the Seychelles islands stretch from 4° to 10° south of the equator meaning they enjoy year round tropical waters and an enviable climate. 
HISTORY OF THE SEYCHELLES
For those interested in the history of the Seychelles, the islands were believed to be unpopulated until the 1700s.  Before that they did see some intermittent visitors from other island people, Arab traders and more mysteriously pirates – leading to stories of long lost maps and hidden treasure. 
The islands have a rich political history being claimed initially by the French who arrived in 1756 in a navy frigate called 'Le Cerf' which gave its name to Cerf Island. The Seychelles became a British Crown colony in 1810 and finally gained Independence in 1976.  The French influence is undeniable, with English, French and Seychellois Creole being the official languages and Creole cuisine being the food of the island. 
The islands now have a population of 97,000 most of which live on the largest island Mahé.
THE RICH AND FAMOUS
The remoteness and exclusivity of the Seychelles means they have long been sought out by the rich and famous.  Ian Fleming visited in 1958 seeking inspiration whilst writing the James Bond thriller 'For Your Eyes Only', and Cerf Island was a favourite of best-selling author Wilbur Smith.  In March 1972 Queen Elizabeth II opened Seychelles International Airport and from that day on the islands have become a firm favourite of international jet-setters and those seeking a truly romantic getaway.  George Clooney and Amal Alamuddin as well as Prince William and Kate Middleton all famously honeymooned here.
ACTIVITIES
As soon as you arrive on these paradise islands you find yourself relaxing and enjoying the slower pace of island life and that 'castaway' experience.   For those seeking a more adventurous visit there is much to occupy your time.  The clear-blue, warm waters and stunning marine life lend themselves to all manner of activities.  Water sports such as snorkeling, scuba diving, kayaking, sailing and fishing are all popular pastimes, whilst hiking and island hopping are also firm favourites.
SEYCHELLES WILDLIFE
Whilst you are there make sure you take note of the islands' unusual flora and fauna.   Hundred year old reptiles (giant tortoises) crawl amongst the Coco de Mer trees, the largest of the coconut family and endemic to the islands of Praslin and Curieuse.  Up in the branches you might spot a Seychelles Fly Catcher or a Flying Fox – a type of fruit bat.  Meanwhile, underwater is home to diverse sea life including dolphins, rays, abundant types of fish, and an incredible array of highly coloured and beautiful Nudibranch – technically a marine gastropod but more often described as a sea slug!      
If you are into your scuba diving then make sure you visit one of the islands in the Sainte Anne Marine National Park.  Created in 1973 it was the first national park of its kind in the Indian Ocean and its aim is preservation of wildlife.  Islands in the national park include Sainte Anne Island, Cerf Island, Round and Long Islands.
CUISINE
The rich history of the Seychelles has led to an amazing fusion of African, British, French, Indian and Chinese flavours.   Creole cooking is widespread and involves chillies, rice and coconut and the islands are home to a variety of seafood that would certainly impress the likes of Rick Stein and Éric Ripert.  You will find shark, barracuda, parrot fish and kingfish on menus alongside the usual squid, octopus, grouper and red snapper.
WHERE TO STAY
If you are looking for style and seclusion why not book your very own private villa.  South Point Villas are a family run business on Cerf Island and manage four individual and totally private villas.  Built just 14 years ago, the villas share a five acre site on a remote part of Cerf Island in the Saint Anne Marine National Park and are easily accessible from Mahé Island.  They are the ultimate Seychelles beach villa and all have spectacular ocean views.  Each villa is a little different – designed to have their own charm - but each villa has its own private veranda with plunge pool and you will also receive a high level of personal care from the manager Michel Estico.  He is fluent in English, French and Creole and as part of the package South Point Villas will:
Include a breakfast starter pack for when you arrive
Offer you one complimentary main meal as part of your stay
Go above and beyond to make your stay an unforgettable one, so you can maximise the time you spend enjoying yourself!
The following add-ons can also be purchased at the time of booking or during your stay
Assistance with you with your cooking and laundry needs
Assistance with your shopping
BOOK NOW and you could be on your way to your very own private paradise.
LOCAL INFORMATION
French and English are the two official languages. 90% of the population is Roman Catholic, and 8% are Anglican.

The tourism industry is the main driver of the economy, accounting for 70% of FOREX earnings, and employing 30% of the labour force.

The local currency is the Seychelles rupee (SCR).