GET A 20% DISCOUNT FOR LONG TERM STAYS (MORE THAN 4 NIGHTS)
This offer is applicable to new bookings only.
ON YOUR BOOKING, JUST ENTER THE DISCOUNT CODE:  LONG STAY
GET A 25% DISCOUNT IF YOU STAY FOR 4 NIGHTS BEFORE THE END OF SEPTEMBER 2023.
Pay for 3 nights and get the 4th night for free!
This offer is applicable to new bookings only.
ON YOUR BOOKING, JUST ENTER THE DISCOUNT CODE:  FREE NIGHT
IF THE VILLA YOU ARE TRYING TO BOOK IS UNAVAILABLE, please contact us directly at admin@southpointvillas.com. 
WE MAY BE ABLE TO OFFER YOU ONE OF OUR LARGER VILLAS AT THE SAME PRICE.
TO RESERVE YOUR VILLA, PLEASE CHECK FOR AVAILABILITY USING THE FORM ABOVE, OR CLICK HERE
NO LAST MINUTE BOOKINGS UNFORTUNATELY. BOOKINGS TO BE MADE A MINIMUM OF 3 DAYS PRIOR TO ARRIVAL.
We offer four luxurious self-catering accommodation villas: Cache, Cove, Palm and Sunrise.
Cache, Cove, and Palm are elevated and less than 20 meters from the water's edge, and Sunrise is set back about 50 meters boasting spectacular views.
South Point Villas Cerf Island is situated on an elevated rocky promontory on the south-east coast of Cerf Island, directly opposite the small uninhabited island of Cache.  Swimming and snorkeling in this area are safe with numerous secluded beaches nearby.  We are within a protective reef.  On arrival at Mahé Airport a taxi will whisk you on a 10 minute journey to The Boardwalk on Eden Island, followed by a 15 minute ferry to reach the Villas.  The ferry service is only complimentary on arrival and departure.
For our Villa Rates please click HERE
PLEASE NOTE:
All bookings are subject to a minimum stay of three (3) nights.  Late booking must be made and paid for in full at least 5 days prior to arrival.  We are unable to accept last minute bookings.
Your reservation is calculated per person per night.  The price includes free boat transfers to and from Mahé on arrival and departure days. Unfortunately for safety reasons we are unable to accept anyone under 10 years of age – please see Point 1 below.
Any offers or promotions will be applied when you book so you can see the actual price you will be paying.
Your booking is confirmed once we have received your deposit (25%). The balance (75%) is payable 30 days prior to your stay.
Please take note of our Booking Terms & Conditions which apply to all bookings including bookings through 3rd parties / agents. 
All our visitors are required to sign our standard indemnity form.
In the event that you cancel your booking with us you are responsible for any bank charges arising or fees associated with refunding your booking (4%). 
FOR YOUR SAFETY:
Unfortunately we are not able to accept small children or babies/infants due to the height of the safety rails. This applies to anyone under 10 years of age. This age requirement is strictly enforced without exception and guests will be required to present their passports at check-in.
We recommend you bring some sea/diving shoes with you. Swimming/snorkelling on the reef islots of fun but you don't want to catch your toe or stand on anything accidentally with bare feet.
Click HERE to read about our CORONAVIRUS SAFETY MEASURES IN PLACE
Guests Reviews

We enjoyed this beautiful and very private place on Cerf Island.  It's a good location for canoeing and snorkeling in the St Anne Marine Park.  Many thanks to Christine and Michel for the prepared food in the fridge and the very good fish.  If we have the chance, we would like to come again.
Read the handwritten guestbook entry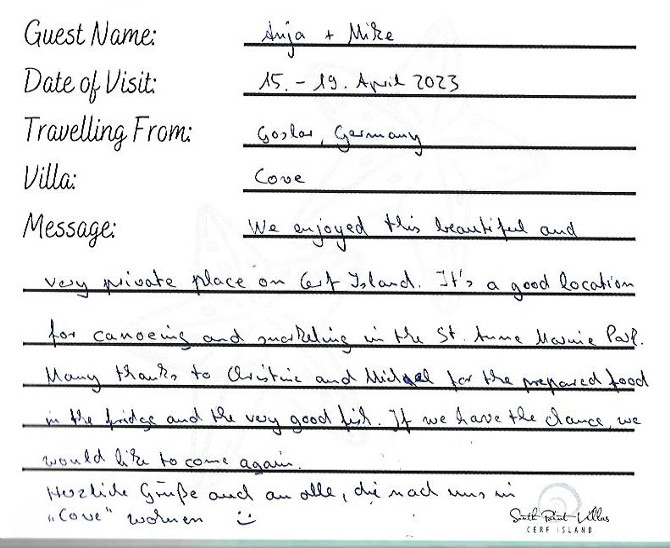 SERVICES
Airport transportation to Cerf (25mins)
Scheduled ferry service between Mahe Island and Cerf Island (10 mins)
Shopping service
Washing and cooking assistance*
Wake-up call
Credit card facilities
*Surcharges apply